Discover more from Sweetbitter
A newsletter on writing, publishing, and academia by MA student and author Kaitlin Smith.
SWEETBITTER: ON QUERYING AND BEGINNING AGAIN
Or, Pushing Forward, Writing a New Project, and Preordering Books
Dear Reader,

It's been a long while since I've talked to you. My last newsletter was in May and if you're kindly joining me again for this July edition, thank you. I've missed you dearly.

(TW: Pet death.)

At the very beginning of June, I lost my dear cat Stella. She was a sassy, sweet, firecracker of a cat that found me just after I moved into my current apartment. I was so heartbroken (and I still am), and I needed the time to myself to grieve. So, no June newsletter. I'm sorry, but I'm so glad to be back in your inbox now. I hope June was kinder to you.

My June passed in a blur of heartache, fervent writing, and finding a new normal. I pushed myself to commit to my writing, to ignore that fear in my heart about if I'll ever go anywhere, and I finished the revisions on my #RobinWIP manuscript (more on this later). I started a new job which has provided me with so much routine and stability that I've had more energy for what matters to me. I've practiced being authentic in my healing, writing, and life.

June was a mosaic of emotions. And I'm ready for whatever July brings.

ADDITIONS TO THE FAMILY: JEM & PHOEBE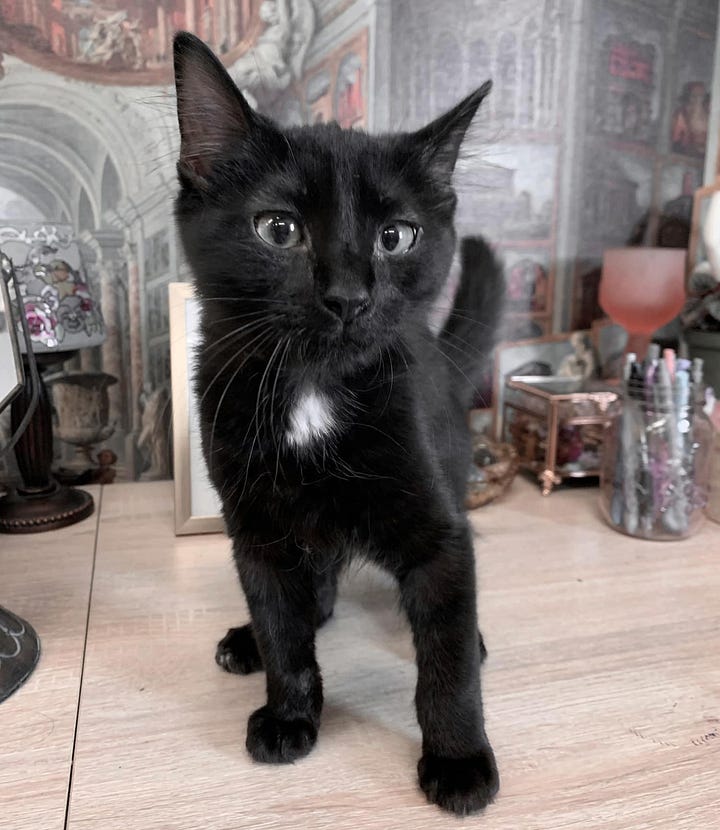 At the beginning of June, just after Stella's passing, I added two new additions to the household: Phoebe and Jem! Phoebe and Jem are twin domestic long hair twin kittens kindly given to me by a friend that needed to find a home for them. They were planned additions before I lost Stella, and I'm heartbroken that she never got to meet them. But Phoebe and Jem have been true lifesavers. They're both so sweet, friendly, and playful (even if Phoebe does like to commit crimes). They've been the best friends a woman could ask for, and the most encouraging writing cheerleaders (or so I like to pretend).

Expect more of them in your inbox in the future!

ON "LAST DRAFTS" AND QUERYING
Or, Robin Hood and A Moment of Bravery

Let's be real. We never quite reach the "last draft" of our work until it's published—even after querying and along the publishing process there are line edits, copy edits, developmental edits…you get it. But a couple of weeks ago I finished the "last" draft of #RobinWIP that I'll work on for a while. I've finally completed a draft that feels, in my heart, query-ready. I've had it beta read, I've edited, I've agonized over every line, and now I'm here.

For those of you who've followed along for a while, you'll know that I began writing #RobinWIP in 2021 while I was a Literary Fellow at BookEnds Literary Agency. It was spring, and I'd just completed my first book not long prior. It was a young adult contemporary novel that explored grief and mental health. It was a book in which I processed some of my own trauma and grief and, while I adored the book, I struggled to place it with an agent only to discover I didn't want to write contemporary YA after all.

When I began writing #RobinWIP, it was like coming home. And it was then I knew I was truly—for any age group—a fantasy writer. Writing that first book to completion was important not only for what it meant to me but so I could discover what I truly wanted to write.

Below, please let me introduce the main characters of #RobinWIP: Atticus Crowe and Wendy Darling.
Wendy is a soft sea of emotions, forever yearning to belong while simultaneously struggling to please everyone. Robin is a fire tearing through every town, all bright smiles and faux confidence. Together, who knows what will become of them? Especially when they're at each other's throats…

Querying is a slow process. I don't know when, or if, anything will happen but I have hope. I've loved these characters since their story first came into my head when I was 18. I hope that whatever becomes of them is good. I hope that one day you have the chance to love them, too.

ON STARTING A NEW PROJECT
Or, #SaintWIP

In the meantime, I've been dreaming of my next project. I've known for over a year or so now that #SaintWIP would be my next project. See this post. For now, I want to keep as much of it as close to my heart as possible—which means I won't be revealing too much just yet.
But what I can share is this: Adelaide was once a girl, and now she hungers for blood. She will do whatever it takes to discover what turned her into a monster and stop whatever turned her from taking more girls.

Oh, and have a playlist, too:

BOOKS TO PREORDER
We're in a year of fantastic books, especially debuts. I've had the great honor of being on the street teams for two upcoming debuts, and there are a plethora of other books I can't wait to get my hands on. Preorders signal buzz for the book to publishers and help authors continue to write books. So, I thought I'd share a few of the upcoming releases for which I'm most excited:

1. THE LIBRARY OF SHADOWS by Rachel Moore
Rachel's stunning debut is a paranormal romcom with a dash of mystery. It's the perfect blend of funny, clever, and heartwarming. I couldn't put it down as soon as I picked it up!

2. TOGETHER WE ROT by Skyla Arndt
A cult? Former best friends? A sentient forest? Sign. Me. Up. I've just started reading this one (thanks Skyla!) and it's for sure going to be one of the best YA books of 2023. Skyla knows her craft, and I can't wait to see where this story goes.

3. WHAT THE RIVER KNOWS by Isabel Ibañez
I cannot resist a book comped to The Mummy. Plus, I'm a sucker for anything with archaeology and rivals-to-lovers romance (what a cool combo, huh?). Isabel has poured so much research into this novel which only makes me more excited to read it!

4. LORE OF THE WILDS by Analeigh Sbrana
All I needed was to hear "fae" and "library with a deadly enchantment" and I was already preordering this one. It's the year of stunning fantasies, dear reader, and I am swept away by the blurb and cover of Analeigh's upcoming novel.

5. A STUDY IN DROWNING by Ava Reid
I've been a fan of Ava's since I first read JUNIPER AND THORN, a book near and dear to my heart. In this release, "as two rival students investigate [a] reclusive author's legacy, piecing together clues through his letters, books, and diaries, they discover that the [author's] house's foundation isn't the only thing that can't be trusted. There are dark forces, both mortal and magical, conspiring against them - and the truth may bring them both to ruin." Another preorder I snagged immediately!


UNTIL AUGUST
I think I've talked your ear (or eyes) off enough for now. It's been so good to catch up. Whatever has happened in the months since my last newsletter, I hope it was good to you. I hope that your July is filled with nothing but kindness, creativity, and maybe a good surprise or two. In the meantime, I'll be working on query materials and writing my next project.

Until August, stay beautiful.

Love,
Kaitlin